OSHA Reveals the Top 10 Most Cited Standards for the 2020 Fiscal Year
March 11, 2021
Using preliminary data, the Occupational Safety and Health Administration (OSHA) recently revealed its top 10 most frequently cited standards in the 2020 fiscal year. This information is valuable for businesses of all kinds, as it helps them identify common exposures that affect their workforce and gives them the information they need to plan their compliance programs.
For 2020, the top 10 most cited standards were as follows:
It's interesting to note that the standards cited in the 2020 fiscal year are the same as those identified in the 2019 fiscal year. However, some standards did change positions. For instance, "Ladders" climbed to the top five and "Respiratory Protection" rose from fifth to third. What's more, "Fall Protection – General Requirements" remained OSHA's most frequently cited standard for the tenth consecutive fiscal year.
Keep in mind that this data is preliminary and may be subject to change.
Darren Cherek and our in house Risk Services Department can help you work through OSHA violations, and more importantly how to avoid a fine before it even happens.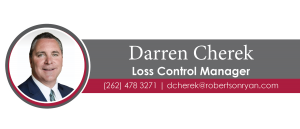 Source: Zywave