1 day. 140 volunteers. 430 hours.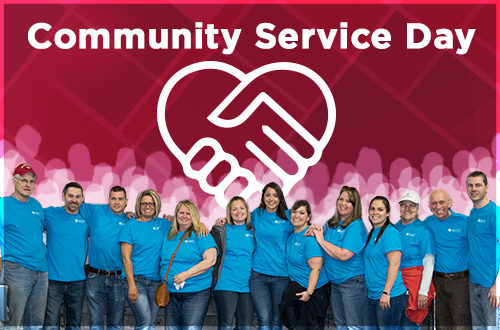 Robertson Ryan & Associates hosted their second annual Community Service Day on May 16th. Since 1960, Robertson Ryan has made the commitment to make a difference in our communities by volunteering. Now 58 years later, RRA serves hundreds of community organizations through our dedicated 230 team members spanning 20 locations. "Beyond helping our clients insure and protect what is most important to them, we want to make the neighborhoods we live and work in better today than they were yesterday," said Allan Degner, Robertson Ryan's Vice President of Marketing.
Robertson Ryan's Employee Engagement Committee spearheaded the efforts for organizing the Community Service Day. Over 140 RRA team members sought out projects to benefit non-profits and service organizations in greater Milwaukee WI, La Crosse WI and Ft Myers FL. The projects ranged from 2 to 4 hours and included organizing, seasonal landscaping, animal care and cleaning, to internally based projects such as making blankets and baking for fire departments and police stations.
Some Non-profits helped:
Children's Hospital of Wisconsin
Cristo Rey Jesuit School
Elmbrook Humane Society
Family Enrichment Center of Ozaukee County
Feeding America of Eastern Wisconsin
Habitat for Humanity of Lee and Hendry Counties Florida
Hunger Task Force of La Crosse
Hunger Task Force of Milwaukee
Lake Geneva Food Pantry
Ozaukee Humane Society
Penfield Children's Center
Sauk Prairie Theatre Guild
Wisconsin Humane Society *makeup day
Wisconsin Humane Society Racine Campus
Wisconsin Independent Learning College
The Service Day and spirit of community goes beyond one day of giving. In the community, our impact is far reaching through the civic, educational and charitable causes we support. Many team members from Robertson Ryan personally sit on committees and speared fundraising efforts making a difference throughout the year. "We recognize our business is about people and want to thank those who have helped us succeed along the way. I am extremely proud and applaud our Employee Engagement Committee, who made the Service Day possible, and especially the 140 team members who unified together to donate their time and talent. This is just one example of how Robertson Ryan continues to make it a priority to be a service focused organization," said Chris Illman, Robertson Ryan's CEO.