Independent Insurance Agents Day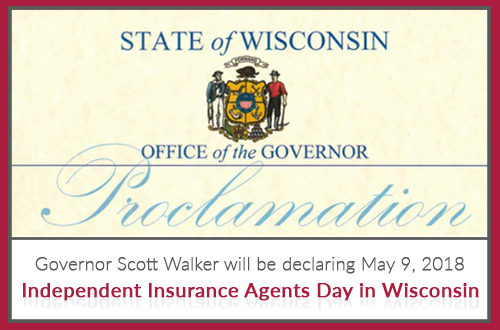 Governor Scott Walker has declared May 9, 2018 as Independent Insurance Agents Day for Wisconsin in recognition of the vital role agencies like Robertson Ryan & Associates play in the community and their strategic importance to the Wisconsin economy.
The Governor's proclamation joins with the Independent Insurance Agents of Wisconsin to applaud the entrepreneurial spirit of Wisconsin's independent insurance agents who are small, medium and large businesses working to make a difference in every community. Robertson Ryan is an integral part of an industry whose collective economic activity directly contributes more than $15.5 billion to the Wisconsin economy.
As a Top 100 US Insurance Agency, Robertson Ryan has 96 Agent Owners who provide insurance programs from over 130 carrier partners to more than 30,000 clients. RRA is passionate about taking a proactive approach to helping protect individuals, families and businesses.
Allan Degner, Vice President of Marketing shared, "Robertson Ryan is proud to be recognized by Governor Scott Walker for the integral part we play in protecting families and businesses and giving back through charitable contributions and volunteer efforts."