Kewaunee Office Team
It is with sadness, but warm wishes, that we announce the retirement of Diane Opicka from Robertson Ryan & Associates in our Kewaunee office.
Diane started in the insurance business in 1981. Over the course of her 35 years in the industry, she has gained extensive knowledge and experience which has helped her build lasting relationships with her customers and colleagues alike. She will be greatly missed by all, but we wish her a long, healthy retirement with her husband, Dennis and the rest of her family and friends.
After an extensive search, we have found a new Customer Service Representative to replace Diane. Nicole Kirsten joined our team in September and has earned her insurance license in both Property and Casualty lines. Nicole resides locally in Kewaunee with her husband, Mark & son, Cormick. She has a great deal of customer service experience and looks forward to meeting and working with our clients.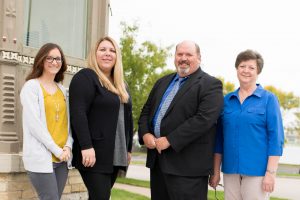 Left to Right: Kristen Chaudoir, Nicole Kirsten, Michael Walston & Diane Opicka