Brookfield Office Move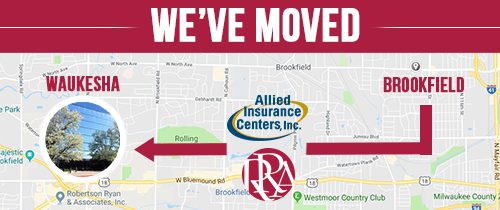 In 2016 Allied Insurance joined forces with Robertson Ryan & Associates. It's been a great move for us. After 31 years at our present office location, our team is excited for our move to a new office where we can join more of our colleagues.
Robertson Ryan has been at this Waukesha office since 2001 and just finished an office renovation for our team. We look forward to a new office view, including a lake (man-made) and joining some of our colleagues in the Waukesha Robertson Ryan office.
Former Office Location
12750 W North Avenue
Brookfield, WI 53005
New Office Location 8/2/19
20975 Swenson Drive, Suite 175
Waukesha, WI 53186
Rest assured, you will have the same dedicated customer service team with the same phone number 262-782-5373.
We appreciate your trust and business. If we can help you, a family member, or friend with any personal or business insurance, please let us know.