SERVICE DAY 2022 – CELEBRATING OVER 567 VOLUNTEER HOURS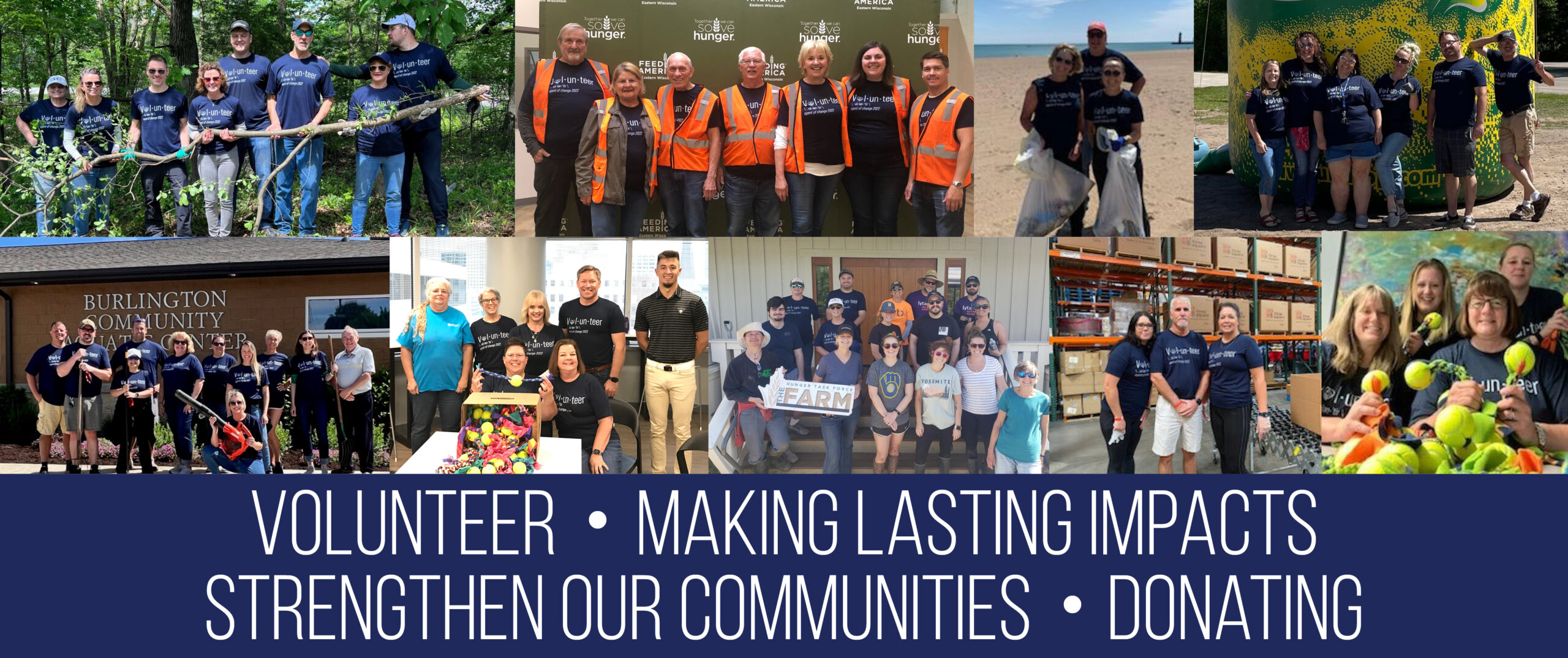 This past week we rolled up our sleeves and pitched in at our local communities to celebrate our 5th annual Service Day!
We had over 189 volunteers across 12 states come together to perform over 567 hours of volunteer work.
We want to thank everyone who made the day possible and give a special shout out to the RRA Service Day Team who put this together. It takes a big support network to pull something of this magnitude off and we couldn't be more proud of our team!
At Robertson Ryan, we value making a difference and going the extra mile. Our annual Service Day is an exceptional way to show just how much we care.
2022 Service Day Activities Included
Hunger Task Force, The Farm: Our team planted 860 watermelon plants that will supply 1,720 watermelons for families this summer, and all in just one afternoon out in the field. And we learned so much about sustainable agriculture, crop rotation, drip irrigation and just how important The Farm is to our food pantry networks in SE WI. Pretty awesome!
Feeding America, SE WI: We helped sort and pack up boxes to be distributed to over 35 communities in SE Wisconsin, where statistics show 1 in 6 children face hunger. Feeding America SE Wisconsin distributes 24,629,257 meals to people struggling with hunger each year, and it was an honor and privilege to work alongside other volunteers, supporting the largest hunger relief organization in the United States!
Lapham Peak: Brush and grounds clean-up in Kettle Moraine's State Forest was grueling, but very rewarding work with our crew of enthusiastic volunteers!
Elmbrook Humane Society: The rain kept us indoors this year, but our crew kept busy organizing, doing laundry, washing toys and dishes, cleaning, most importantly, playing with the animals!
Saving Paws Rescue: Assisted with various shelter needs for the day, and enjoyed spending time with the pups! This incredible dog rescue based in Phoenix, AZ, is 10 years old and was created as a safe harbor for at risk German Shepherds and Belgian Malinois dogs, providing fostering, boarding and veterinary services. Today the rescue has grown and is saving more than 200 dogs every year. Way to go AZ!
Tug Toys for Dogs: Three of our SE WI locations decided to jump onboard this fun tug toy idea for animal shelters such as Elmbrook Humane, Saginaw County Animal Care Center in MI and more! The idea was shared by Elmbrook Humane Volunteer Coordinator, who mentioned that dog toys are always something on their needs list. With a generous donation of used tennis balls, purchased material and a YouTube link for the "how to" part, we created over 130 adorable tug toys for our shelters!
Mequon Nature Preserve: Trail mulching, outdoor grounds maintenance and invasive species removal on 510 acres with over 5 miles of trails, is keeping our Mequon team busy again this year. This natural play space in the heart of the Milwaukee Metropolitan area has a great resource and learning center and is enjoyed by over several visitors every year.
French Creek Wildlife Area: We helped clean up the grounds at this state park that helps foster native plants and animals, and provides a great place visit.
Sun Drop Days: Our Shawano team jumped aboard to help set up for Sundrop Dayz, which takes place annually on the first weekend in June to kick off summer. Sundrop Dayz selects 5 new nonprofits each year to share all the proceeds from the event, which includes competitions, music, games, flea markets, dance, crafts, antiques and lots of great food from local vendors.
Assisted an Elderly Neighbor: We helped our neighbor power wash their house, clean up their yard and get it ready for summer!
Saginaw County Animal Care Center: Assisted with laundry, store supplies and donations, cleaned a few dog kennels, mopped floors and socialized with the dogs! This Michigan shelter currently houses 100 dogs and 80 kittens/ cats.

Baked Good to Local First Responders: We delivered bake goods to the local Fire, Police and Sherriff departments, to say thank you for keeping us safe!
Burlington Aquatic Center & Echo Lake Park Clean Up: Our Mangold and Weis Teams, joined forces in spreading mulch, pulling weeds and giving the area an overall clean up!
Simmons Island-Keep Kenosha Beautiful:  It was a sunny day for beach cleanup at Simmons Island for our Kenosha and Greenfield offices, helping support the "Keep Kenosha Beautiful" (KKB) program that is dedicated to city-wide beautification and litter prevention in public areas.
East Lampeter Township Park, PA: Helping keep the park and its grounds clean and welcoming to all visitors.
Community Service League: Collected perishable food items for donation to the food distribution centers that help feed families in our community.

C.A.R.E. Sea Turtle Project: Cleaned the nesting areas around the sea turtles with marine biologists, in addition to learning about the entire process. Keeping the beach clear of trash and other obstacles, and filling in holes that may entrap the hatchlings, helps sea turtles and their young get to the water during the nesting season May-October.
Three Square Food Bank:  Sorted and boxed 2400 lbs. of food donated by Starbucks and Amazon/Whole Foods for Three Square Food Bank in Las Vegas, NV. This food was immediately distributed to shelters in the Las Vegas Valley.
Baird Creek Preservation Foundation: Our Green Bay and Sheboygan team members joined forces to help clean up the pathways & grounds in the Baird Creek watershed, which boasts recreational, ecological and educational opportunities over 500 acres of land in the Greater Green Bay community.
Volunteers for a Beautiful Hartford: Our Hartford team helped bring flowers and plantings to public spaces working with VBH in the downtown area helping to beautiful the City of Hartford.