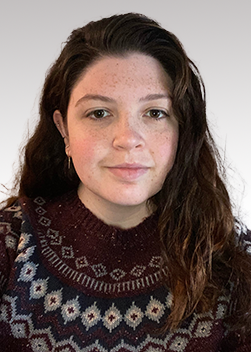 Colleen Levy
Receptionist
HOW DID YOU END UP IN THE INSURANCE INDUSTRY:
I spent six years in the catering / hospitality industry, in every role from serving / bartending, event management, accounting, IT, and administration, until 2020. During the pandemic, working in hospitality stopped being an option. I had administrative and customer service experience and needed an industry that was not crushed by the pandemic, so I transitioned to insurance.
WHAT DOES EXCEPTIONAL CUSTOMER SERVICE LOOK LIKE TO YOU:
An exceptional customer service professional should be able to anticipate the needs of the client before they are brought up.
UNIQUE PROFESSIONAL FACT:
I worked at Disneyland as part of the Disney College Program. I used to teach computer programming to children. I know seven programming languages.
UNIQUE PERSONAL FACT:
In the last ten years, I've lived in four states and eight cities. Most recently I moved from Ann Arbor, Michigan in February 2021. On the weekends, I can be found at antique malls and estate sales; I have a knack for spotting overlooked items and fixing them up.