Jack Ryan Community Service Award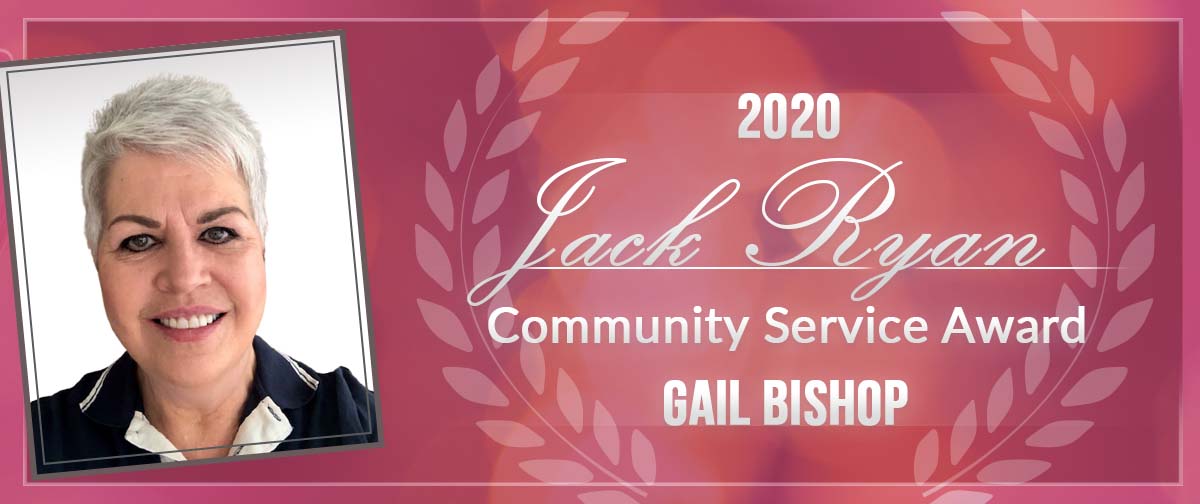 Gail Bishop Wins 2nd Annual Jack Ryan Community Service Award
January 2021 (Milwaukee, WI) Robertson Ryan & Associates presented their 2nd Annual Jack Ryan Community Service Award during their Virtual Holiday Event in December. The award was established in honor of one of our illustrious founders, Jack Ryan, whose inclusive vision is one we carry on today. At Robertson Ryan we make it a priority to volunteer and donate to local non-profits. Collectively we recognize our business is about people and the communities we serve. It is our shared goal to make wide reaching and positive impacts where we live and work.
The Jack Ryan Community Service Award recognizes Gail for her excellence in the community. Gail's dedication to VetsRolls is one that is so near and dear to her heart. A group of volunteers who raise over $400,000 each year by hosting various fundraisers. These funds are used for their annual trip taking over 220 WWII, Korea and early Vietnam Veterans as well as Rosie-the-Riveters on a 4 day bus trip to Washington DC to see their memorials. They take 10 Badger coach buses with over 120 volunteers and medical staff. VetsRoll has completed 10 annual missions (trips) of which Gail has attended an impressive 7.
VetsRoll Mission Statement is:  Gratitude-Closure-Respect.
"This trip gives our Heroes the respect that they deserve and it is an honor to accompany them. It takes many hours of work and a lot of money to accomplish this. The veteran pays nothing for the trip except to get to Beloit, WI where our trip departs from. We've had veterans from 36 states join us. As a volunteer, we each pay our own way for the trip. You would think that taking 4 days off work and having to pay as a volunteer would keep people from applying, but there is actually a waiting list for volunteers to go," said Gail Bishop.
Gail also mentioned "Being a volunteer for VetsRoll is my way of "paying-it-forward". I have 2 children serving in the Army:  Sgt. Major Danielle Bishop and Sgt. First Class Adam Bishop.  When my children come home, which is only once or twice a year, wherever we go, someone is thanking them for their service, buying their dinner or a beer. So, when I go on this trip, I can do the same for these Heroes by listening to their stories and assist them with their needs on the journey."
Allan Degner, VP of Marketing at Robertson Ryan, shared that "they donated $2,000 in honor of Gail Bishop to VetsRoll. Gail is humble and does not like the spotlight, but she put that beside her to talk about The VetsRoll cause and her passion was explosive. Due to the pandemic, VetsRoll did not make the trip to DC this year, but Gail stayed active by making and selling drinking masks with straws. Gail is an exceptional team member in the commercial insurance department at Mangold Insurance, an Affiliate of Robertson Ryan & Associates in Burlington, WI. Beyond her profession in the insurance industry, she is truly someone who is making a big difference and is always helping others. Not only is she involved in the various fundraisers for VetsRoll throughout the year, Gail and her husband are avid supporters of Special Olympics and are long time volunteers to their cause. Our team at Robertson Ryan could not be more proud of the work Gail is doing and her life-long approach of always lending a hand and making a positive difference."
Our other Jack Ryan Service Award Nominees will each receive $500 for their charities of choice.
Kelly Drescher: Guardians of the Children
Jack Loppnow: Repairers of the Breach & International Crane Foundation in Baraboo, WI
Jennifer Robinson: New Beginnings APFV
Craig Semler: Hartford WI Fire & Rescue
Robertson Ryan & Associates would like to thank everyone on their team for their ongoing support and work within the communities we serve. Thank you.