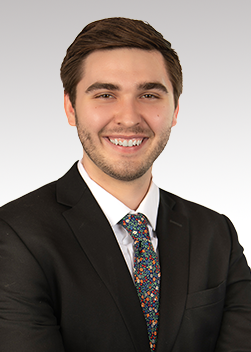 Ty Evans
Account Executive | Commercial Lines
HOW DID YOU END UP IN THE INSURANCE INDUSTRY:
I've had the privilege of watching my Grandpa/Papa, Bill Evans, flourish as an Insurance Agent with Robertson Ryan. I was fortunate enough to see from a very young age, the positive impact and meaningful relationships he was able to build with his clients, and carrier partners. Witnessing these relationships first hand, sparked my curiosity and fueled my passion to become an Insurance Professional.
THE BEST PART OF BEING AN INSURANCE PROFESSIONAL:
My favorite part of being an Insurance Professional is having the opportunity to build meaningful relationships with clients and our Carrier partners. I look forward to forming a strong trust beginning at the very first point of contact, and continuously focus on developing that connection as time moves on.
MOST OVERLOOKED INSURANCE COVERAGE:
Employment Practice Liability (EPLI). The litigious environment in our society continues to grow. EPLI is a very important coverage to consider, and aims to provide coverage for many kinds of employee lawsuits, including: Failure to promote, Discrimination, and Wrongful termination – to name a few.
CHARITIES YOU'RE INVLOVED IN:
Every year, I raise funds for the Special Olympics of Wisconsin Athletes, as part of their "Polar Plunge " campaign. I have taken on 3 Polar Plunges, Wisconsin Lakes I have conquered include: Lake Superior, Lake Michigan, and Lac Labelle.