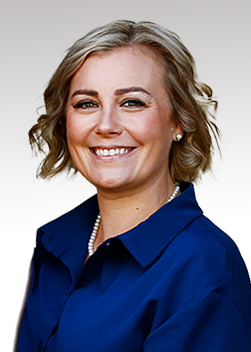 Jill Zauner
Agent & Vice President
HOW DID YOU END UP IN THE INSURANCE INDUSTRY:
Insurance is a great industry, it's also a pretty invisible industry. I, like most people didn't give it any thought until I needed coverage. So, like many people I know, I fell backward into it when the Marine Corps stationed my husband in the Cincinnati area and I applied for a job at the Cincinnati Insurance Company.
THE BEST PART OF BEING AN INSURANCE PROFESSIONAL:
Insurance does two important things: it protects the assets you've worked so hard to have (like your house) and it gives you the ability to take a risk (like starting a business). But, insurance can be complicated and difficult to navigate, that's where I come in! I love being able to be a small part of helping people realize their dreams.
WHAT DOES EXCEPTIONAL CUSTOMER SERVICE LOOK LIKE TO YOU:
Exceptional customer service is more than just being responsive. I understand that insurance isn't your whole life! I want to meet you where you are. If you want to comb through your policy over a cup of coffee, I'm here for that. If you would rather have a 20 minute phone call, or simply correspond over email we can do that too. If Saturday morning is the only time that works, I completely understand. I want to make the process of getting you properly covered as easy for you as possible.
MOST OVERLOOKED INSURANCE COVERAGE AND WHY:
Umbrella! Umbrellas are the best deal in insurance, and everyone should have one. An additional million dollars in liability limits over your home and auto policies is a layer of asset protection that should be seriously considered.
UNIQUE PROFESSIONAL FACT:
I spent almost a decade in the insurance industry before becoming an agent. I began my career as a commercial lines underwriter, which gives me a uniquely deep understanding of insurance products. I then transitioned to the Excess & Surplus Lines side of the industry. E&S is where unique and difficult risks are insured, which means that I have a deep understanding of the full breath of insurance products that exist, so even if you (or your business) aren't cookie cutter, I know I can help you get the coverage you need.
A CHARITY I CARE DEEPLY ABOUT:
My husband, Eric is a USMC Veteran. We spent the first nine years of our life together as an active duty military family. Supporting Military Veterans is deeply important to us. Eric and I are proud to be on the board for The Center for Veterans Issues, Inc. CVI is headquartered in Milwaukee and provides housing and supportive care services to homeless and underprivileged Veterans and their families in Wisconsin. CVI's mission does not stop there. Multiple wars and deployments of our service men and women has resulted in an array of difficulties derailing their ability to transition back into civilian life. CVI's broad spectrum of resources, programs, and services include housing, education, employment, occupational training, technology resources, supportive care services, case management, and other wraparound services and community collaborations.