$8,000 Grant Awarded to Silver Spring Neighborhood Center
The team at Robertson Ryan & Associates have been a long time supporters of our insured Silver Spring Neighborhood Center (SSNC).  For over 60 years, SSNC has been helping families and individuals in Milwaukee obtain self-sufficiency. Their four pillars of focus revolve around: Education, Employment, Youth Services, Health & Wellness.
Through the years, SSNC has been part of Robertson Ryan's Annual Service Day and agent Jeff Frank has regularly helped drive donations, funding and support for their programs. Most recently Silver Spring Neighborhood Center was awarded $8,000 through a grant RRA submitted to Westfield Insurance.
The grant program was focused on supporting nonprofits who are helping families and businesses stabilize and recover from the financial impact of the COVID-19 pandemic. In the last 15 months, nonprofits became increasingly important as the number of people in need increased while funding support simultaneously evaporated.
Across the US, The Westfield Insurance Foundation is donating more than $600,000 dollars to neighborhoods. Robertson Ryan was one of nearly 100 agencies that nominated a nonprofit for the Westfield Legacy of Caring grant program.
"We value our partnerships with our community and the many non-profits we insure and help serve," said Allan Degner, Robertson Ryan's VP of Marketing. "Recent times have been incredibly tough for so many members of our community and our non-profits who tirelessly give back. Investing in our communities helps families realize short-term successes with long-lasting outcomes. We are so grateful to the Westfield Insurance Foundation for their financial support and for our agents like Jeff who are directly making a difference in our local communities," shared Degner.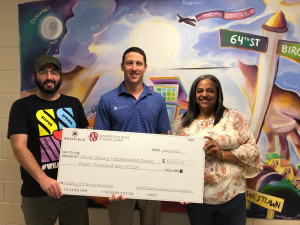 Pictured left to right: Benjamin Holt, Director of Philanthropy at Silver Spring Neighborhood Center, Jeff Frank, Vice President & Shareholder at Robertson Ryan & Associates and Devin Hudson, Executive Director at Silver Spring Neighborhood Center.