Giving Thanks Donation Match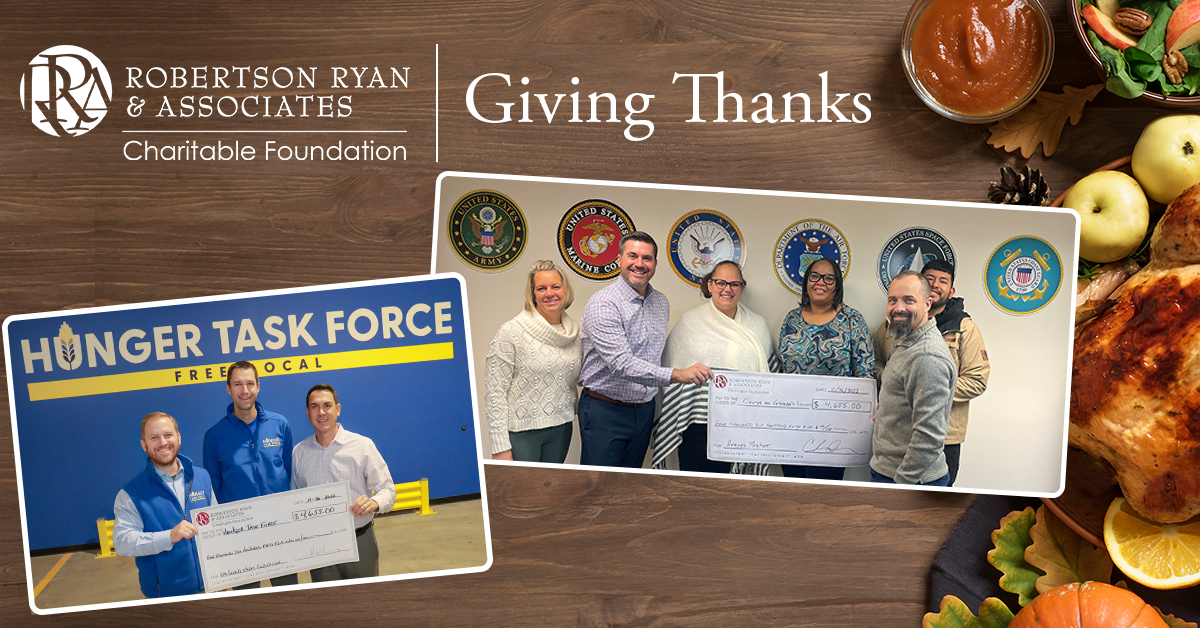 Earlier this year we launched the Robertson Ryan Charitable Foundation. This effort was a significant accomplishment for so many who have been working tirelessly on ways that Robertson Ryan can further give back to our communities. Our ongoing volunteer projects and donation drives offer a positive impact on our culture here at Robertson Ryan, and simply put is "the right thing to do."
We are happy to share that through our foundation in 2022 we have donated over $45,000 to 40 unique charities, many of which are local non-profits right in our own communities serving our neighbors.
In spirit of the upcoming holidays, we hosted a Giving Thanks Donation Match to help food banks, which are in desperate need this time of year. TOGETHER we raised an impressive $9,310!
Our team came together and selected Hunger Task Force and Center for Veteran's Issues – The Hero's Market. This week each charity received $4,655 to help their hunger cause this holiday season. We could not be more pleased with our agents and associates generosity, and the match from our charitable fund.
"The Robertson Ryan Charitable Foundation is a testament to the difference we can make collectively, as one Robertson Ryan," shared Allan Degner, VP of Marketing. "We have so very much to be thankful for and this campaign allowed our team to put that into action, added Degner.
Pictured above:
Jon Krawczyk, RRA Agent & Vice President with Hunger Task Force.
Eric Zauner, RRA Agent & Vice President with Center for Veteran's Issues – The Hero's Market